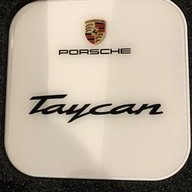 First Name

Ron
Joined

May 16, 2019
Messages
Reaction score

32
Location
Vehicles

TAYCAN TURBO in production - (Tesla S-SOLD), Cayenne, MB 300 SUV

Sorry, certainly did not intend to insult any Porsche owner. Back in the 1990s when Porsches were not such a common car in the Atlanta area, it was tradition of Porsche owners to flash headlights at each other to recognize each other's great car. It made the Porsche owners smile and have pride in their vehicle. Every Porsche is a great car!

Having said that, Porsches are supposed to be high performance sports cars. Every 911 qualifies for that. The base 911 does 0-60 in 4.2 seconds, and the S w/Chrono does 3.3 sec. And the base Cayman/Boxster is 4.9 sec, but the S w/chrono and PDK is 4.0. But lets look at the heavy cars and the Taycan will be a heavy vehicle

Cayenne....Base model 5.9 seconds....common on, a Subaru will out run this! The S model w/chrono 4.6 seconds.

Macan.....Base model 6.3 seconds.....who has the gall to even call this a "sports" utility vehicle. Granted, it is beautiful and has the handling of a slow moving Porsche....lol The S w/chrono, 4.6 seconds....ok, no we have a "sporty" Sports Utility Vehicle.

Panamera....Base model...5.4 seconds......S model w/chrono 4 seconds. As an S model, considering its size and weight, truly AMAZING vehicle. Equally amazing interior, with hideous fat rear end (until the 2019 model). The base model boring and lethargic, no wonder they designed the rear-end to resemble a fat woman's rear end....lol At the time I test drove the Panamera several years ago, it also had different suspension settings. WOW. I almost bought it but had difficulty fitting it into my high-rise condo building parking spot and couldn't get over paying over 100k for a car that had an ugly rear end.

The Taycan.....I am guessing the Turbo S would be between 3.1 and 3.5 seconds, and the S around 4 and the base around 5. Just speculation based on other heavy Porsche vehicles and the obvious need of Porsche to differentiate models based on performance and justify pricing. And additionally for the Taycan, an important part of the performance will be the range.

I greatly look forward to seeing the exact stats of the different Taycan models and look forward to owning one!
We flashed headlights in the 70"s from BMW to BMW and then went to MB, Aston Martin, etc. and the trend stopped. Maybe we can do the flash lights thing again with the TAYCAN.....I am also weary of the mule photos because I am so entrenched in the Mission E look and still plan to fly to Germany for the debut before i pick up my car. Hope they surprise us but not feeling good about the changes and also was not happy with the package received a couple of weeks ago that still show the Mission E....bad PR !