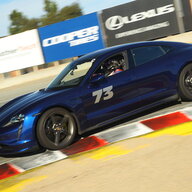 First Name

David
Joined

Jan 28, 2019
Threads
Messages
Reaction score

5,451
Location
Vehicles

Tesla(s), 911 GT3, Boxster S, Bolt, Taycan, Cayenn

if you are on a 350 kW charger you'll be at 80% or more in 25 min or less
after about 90% the charge rate slows down by quite a margin to preserve the battery's longevity (8 year/100,000 mile warranty)
it can take upto 50 min or more to reach 100% - don't do this - it's un-necessary
I normaly unplug at about 93% because honestly that last 7% isn't that much driving range and it takes forever given the slow charge rate - you'll wait another 20 min for that last 7%
no not all charger are the "same" - sometimes they are misbehaving (often??) and you get much much slower rates
if the charger is working and running at peak capacity you should not need to spend much more than 30 minutes at a charging stop
if the charger is working corrrectly the Taycan's battery isn't big enough to need much more than 45 minutes - i.e. if the battery is at the 84-87% mark at 30 minutes- how much more do you need from another session?
you can take a full hour or so if you need to squeeze out those last few single digit percentages (93% battery charge SOC and beyond) - but you need to do reward analysis - it will take 10-30 min for that last 7%, and how many miles are you gaining for the extra time spent at the charger? Normally you don't need the range so you unplug and move on to the next fast charging stop.
"the oaks" in Paso Robles has EV chargers - and the town has fastDC chargers
bob's well bread has a new shiny EA charger across the street in Los Alamos - excellent excellent bakery - and you can fast charge the Taycan while you get some excellent bread and sandwiches…on your way to Paso Robles if you heading north…
when I road trip and EV (Tesla or others) I like to do, 1 or 2 fast charging stops a day- and stay at a hotel where I can slow charge to 100% overnight on a "slow" charger/NEMA 14-50 plug - that sets me up for the next day's 1 or 2 fast charging stops - 1 or 2 fast charging stops a day (40 min or less for each of them) equals 600-700 miles driving in most EV's no problem - and an overnight stop w/slow charger means I'm 100% full in the morning. One fast charging stop a day is normally all that is needed if the distance works out - and it also tends to work out to be the "mid day" meal stop- which I often find the car is ready before I am - 2 stops a day is more rare - with 3 being almost unheard of but possible.
I normally let the session run and pay for the later portion with my account because Porsche covered the 1st 30 minutes and it's just easier to leave the car plugged in and 'cooking' - there is actually quite abit of time overhead to stop a session, remove the charging cable, plug back in, and wait for the session to be restarted to save $0.97 - it's also probably a bit rude to unplug and plug back in if someone is waiting to charge and they need your spot.
You should easily be at 85% or even 90% battery at the 30 min mark - EA chargers by the kWh, not by time (until idle fees) - so 10% of the Taycan's 83.4 kWh usable capacity is let's call it 9 kWh - they charge about $0.31 kWh billing rate - so 9 kWh * $0.31 kWh = $2.79 charge for what ever electrons you are gaining beyond the included 30 minute session - for me that $2.79 doesn't harsh my buzz hard enough to bother with the whole let's unplug and do this again overhead - I'm much more interested in unplugging and getting along on my trip than saving $2.
make sure to drive the charger stations with it entered into the Porsche navigation - if the Porsche navigations "knows" you're driving to an EV charger it will pre-condition the battery on the way to optimize it for best results…
don't fear the 150 kW stall - given charging taper and actual math - it's only a 4-6 min penalty when charging from a 150 kW station vs. a 350 kW - this is because the Taycan's max rate is 270 kW - but you'll only get that rate up until about 30% SOC - after that the charging rate slows down for battery preservation - and then runs at about 180-150 kW until about 70-80% where it will begin to drop below 100 kW
in practice at local 150 kW EA stations I get 175 kW to start and then begin the slow taper until it's time to unplug…
check the station's reliabiltiy on plug-share before blindly landing someplace where you need to charge
use ABRP to plan your trip
enjoy
change stalls if your charge rate isn't as fast as you expect
have a back up plan for another near by charger incase the one you need isn't working or being fussy
the most "time efficient" fast charging road trips are normally stops from 10% SOC or less to about 88% - unplug - rinse, lather, repeat - with an unattended overnight top off to 100% @ a slow hotel/business charger to prepare for the next day.
Last edited: