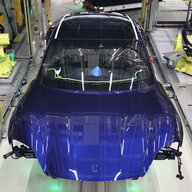 First Name

Sean
Joined

May 22, 2022
Threads
Messages
Reaction score

634
Location
Vehicles

Taycan Turbo (arrived!!)

Not really a wishlist, just the minimum viable design.

A Taycan (or any front fender chargeport vehicle) will only reach if parked perpendicular to the typical back-in spaces, thus blocking other chargers. Lack of a standardized charge port location was a huge miss on the part of automakers.

If they're going to "open the network" as Elon said, they should be implementing the double cables as they are doing overseas. One charger per station will not be well received.
Yes I have first hand experience of it here
By the way the two cables you see here (and elsewhere) on Tesla tombstones are a Mennekes Type 2 connector (for the original Tesla S and X) and a CCS2 connector (for Model 3 and Y and latterly retrospective for S and X)
These are 150kW V2 chargers and only one cable is ever active in a charge session. Not only that but the V2 generation are power-split with 2 stalls sharing a single SuC cabinet. So you're sharing a peak, best case 150kW cabinet output power with your neighbour.
The final thing is Tesla are 400V architecture only - you will be power limited to a max of 50 kW in a standard Taycan unless you have to 400-800V DC booster option fitted.
An awful lot of engineering and upgrades would need to happen to make Tesla SuC tombstones truly multi-headed with simultaneous charging from all connectors.
On the other hand adding another charging lead to the tombstone (or the "magic dock" in the US) with a different connector for them is pretty easy - they did it here in 2018/19 with all the existing V2 stations. V3 SuC sites here are 'just' one single standard lead & connector here - CCS2 - but higher output and not shared!
Last edited: