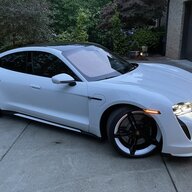 Joined

Dec 26, 2021
Threads
Messages
Reaction score

43
Location
Vehicles

Taycan Turbo

I finally bit the bullet. After several years of studying Teslas and anticipating my order, I was disappointed in Elon's "cool" decision to outfit his cars with the yoke steering wheel (c'mon Elon!). As such, I started looking more deeply at the Porsche Taycan. But, that's all it took- a simple glance, a winky wink and I was in love. Before I knew it, I was on this forum bugging you all about your opinions before I jumped into the deep end.
After way too many evenings with my favorite beverage, studying and re-evaluating, I decided that the Taycan 4S was for me- it seemed to be equally balanced in every-day driving and was super sporty. I had never owned a Porsche before, so- starting there made sense. After countless hours of configuring and re-configuring based on your inputs, I placed the order. But that was until the GTS was announced.
Oh- I must have THAT. Another wink wink…and yes- let's scrap the 4S idea and upgrade. After all the factory delays of the 4S, maybe I'd get lucky with the GTS, I told myself. Ah-hah! I found a dealer who had a preconfigured GTS on order already and it would be here in 2 short months. Great. I decided to sacrifice some things but gain in others.
After tracking the Taycan GTS online and watching the boat slooooowly make it's way to the US (I now know way too much about ship tracking, by the way), I decided to stop by the dealer to discuss a few things before it arrived.
Well, wouldn't you know- someone had chosen to cancel their Taycan Turbo order and it was on the showroom floor. Another wink, wink followed by a Taycan air kiss and *boom*- I needed to test drive it. As you can imagine, the rest is history…the test drive soon became the drive home.
Looking back, I spent way too much time researching everything, but I will say one thing- it got me opinionated. Many of you might not be as maniacal about stuff like the options/upgrades as I am, but I know that many of you are because I've seen you on here. After reading some of your very insightful posts, I somewhat feel normal.  The Taycan Forum is therapeutic in a weird way.
After a month of driving my new ride, I thought I'd share my lessons learned in hopes it helps you as many of you helped me.
Lesson 1
: Test drive and personally drive as many other Taycan's as much as possible to get a real viewpoint. All of the Taycan's are awesome but if you've not driven one or you've not seen your particular car in person, you really need to. Looking back, I am sure I would've been happy with my original 4S original order, and likely the base model too. But when I saw the Turbo with the options I wanted (below), something clicked and I knew that was the one for me.
Lesson 2
: Do your research and determine what you want vs what you need and don't fall prey to speculation. It's hard to say that a Porsche Taycan is even a "need" but it's good to figure out where you stand on all the options and stick to it. It's easy to blur the lines here.
Lesson 3
: Options, options, options. I learned quite a bit…
Color
- I originally fell in love with Ice Grey, and optioned my original 4S in that color. When I went in to the dealer, I saw the White Carrera and found it fit the bill especially with matching Mission-E's that I hadn't really considered previously. When I visited, there was also a Mamba Green CTS, too. I hadn't taken the Mamba Green seriously before, but I must say, it's stunning in person and I would totally option that if I ever do this again in the future.
Interior
- I thought about leather types, colors, stitching, all that. My heart was set on the bourdeaux red interior, but I didn't want to wait on the 4S order so I sacrificed it on the GTS that was pre-ordered. But. when I saw the Turbo decked out in boudeaux/black interior, I think that's what sent me over the edge- it's super nice and perfect. The online pics don't do it justice.
Passenger Display
- cool feature. Not entirely useful but it's fun and gives a certain wow factor to the interior. I'd option it again but it's not a necessity.
Performance Package
- The Turbo came standard with everything but Rear Axel Steering. I don't know if I would want it but I can tell you that the driving experience is awesome. One warning- you can easily do 15-20mph over the speed limit without knowing it. The car is super smooth. I'm impressed when I have it in regular driving mode- it sort of floats with very little foot pedal engagement.
Wheels
- I was originally way too concerned with mileage vs performance and looks. I thought the Mission E's looked silly and thought it would kill my mileage. I've totally given up on that thought now. I love the look and I get about 300 miles per charge, which of course varies depending on how I want to drive it. But- since I charge at home 99% of the time, this is not a big deal. When I go on a trip, fast charging makes up for any mileage concerns.
Seats
- for some reason I thought the Comfort seats were going to be just that- more comfortable, so I neglected looking at the 18-way seats. Since the Turbo came with 18-way seats already optioned, I must say, they are super comfortable. I love them- they're very comfortable and sporty. I'd option it again.
Heads Up Display (HUD)
- I originally thought it was corny but I have to say, it's one of the more surprising features that I found very useful. Many cars have it, but you can configure the HUD a number of ways- and it just helps me keep my eyes ahead, where they should be. I'd option it again.
Night Vision
- I debated getting this if only because of all the deer where I live (that was my excuse, at least). The Turbo had it optioned, so I was happy. If Porsche made the interface wider across the dash or integrated it into HUD, I'd option it again. It's super cool looking but not practical in the small center circle on the dashboard. If free, sure. However, if I had to option/pay for it again, I'd pass.
Not everything is perfect and like many of you, I tend to overlook these 'opportunities' due to the car's performance and fun factor. But, there are a few things I call annoying that I would like to see Porsche resolve. In no particular order:
Music Buttons: There no pre-configured fast forward/rev/pause button on the steering wheel for music. Yes, you can configure one of the two option buttons but it's not nearly what we need. It should be standard.
Camera Monitoring- There are no active cameras to record people that snoop around the car (like Tesla has). I'd love a driving dashcam, which should be standard, too. At a minimum, Porsche should option it because people like me would buy that all day. With all the tech and cameras already in it, I have to wonder if it could be a future software upgrade?
Cell Phone Charging- The cell phone charging in the center console is poor. As many of you state, the phone gets super-hot if you leave it in there, whether you're using the mag or wired options. I think it just needs air- Porsche should fix that.
Sunglass Holder- It seems silly, but there's really not much room to put things like sunglasses. Sure, your center console is there, but it's small.
Knobs- We need more knobs! I love all the tech but if I want to say, change things like the AC vent quickly as I'm driving, it's a pain and takes my eyes off the road.
Overall, it's not a perfect car but it is awesome. I have ZERO regrets - it's a total hoot to drive. I continually find myself finding reasons to hit the pedal on the freeway onramp or to overtake a another car. I'm bound to get a ticket soon, I know it.
What did I miss?