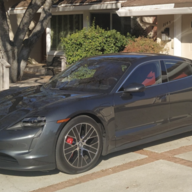 First Name

Ron
Joined

Dec 30, 2019
Threads
Messages
Reaction score

1,618
Location
Vehicles

2020 Taycan 4S

Please excuse the long story, I have been putting off until I had time with Stealth, my 4S's name. It's now been exactly 2 months and 3900 miles with average 333Wh/mi.
Previous EV Experience: Chevy Bolt purchased Feb 2018, love it but it rides hard, not to sporty.
Previous Porsche Experience: None, my son bought a 2000 Boxster S when he was 17, I got to drive it a could times. He raves about the engineering behind Porsche and I can see that is a valid rave.
I want to give a shout out to my local Taycan friends like
@BayAreaKen
,
@daveo4EV
,
@Reg
,
@porsche_coyote
,
@Mark
.
Order Process:
Watched the world premier Sept 2019, called my local dealership within days to check on a test drive. Finally drove in October and put down deposit. I was number 319 (as I recall) in the queue. I had one more test drive in October but then that was it. By Feb 2020 I was #192 or so for a Model 4S. I checked other dealerships in area and a few hundred miles away I found one with 2 allocations. I put down a 2nd deposit for a June 2020 build slot. My dealership in Bakersfield was great to deal with (Parris/Sal/Michael/…). I have yet to even meet the folks there. All handled with texts, emails, and a couple physical mailings for proper signatures.
Pre-Delivery:
The actual build slipped to August and I watched it sit at a dock in Germany then tracked it on the ship through the Panama Canal and into San Francisco Bay. I had originally selected a PECLA (Porsche Experience Center Los Angles) delivery but then started getting cold feet in June and asked them to drop that as I was worried about how the experience would be with all the COVID rules. After the post by
@Reg
I again gained confidence and asked my dealership to revert my decision, they said it was too late, but I also contacted Porsche Experience Center and they said that they can make that happen. It all did happen!
Delivery:
Drove to Los Angles on Dec 10th and stayed one night with my wife and 2 boys. Went to PECLA for the delivery experience. Had a tour of the museum and a fabulous meal.
After the meal we were taken to a private room for the delivery handoff. It was very special, the whole nine yards, covered car, sign a star for my delivery that is put on the wall in that room. I was delivery #388.
After that I went to the track and my boys & wife were taken on a private tour of their Porsche Motor Sports shop that I had told Charles (the delivery expert) that they would be interested in. He gave them a great tour and then some VR track driving experience as well. While that was happening, I was taking another Taycan 4S on the track with a personal driving coach in an other Taycan. I had at least a ½ dozen launch controls, max was 109mph before I braked for the turn. The mini-auto-cross circuit was a lot of fun. I saw just how fast you can make that Taycan stop, it's unreal. Slam those brakes and you go from 40 to 0 in what seems like sub-second. Also enjoyed the skid pad and other traction control courses show just what all that Porsche Stability Management does for you. The car I had did not have PDCC or PTV+ which I have speced as well so need personal testing of that I guess later.
After my 90min or so on the track I came in to meet up with the family and we then walked out to our car waiting outside. Porsche takes hundreds of photos on the track and at the delivery and gives you a memory stick at the end along with some other goodies. I don't want to spoil the mystery, but…
Bottom Line: If you are near a Porsche Experience Center, spend the $500 for their delivery, it's worth every penny! The whole PECLA team really made it an experience not to soon forget.
First Drive:
Drove to Atascadero from Los Angles with one stop in Pismo Beach to charge that night, stayed a while as we also ordered a pizza and woofed it down (outside the Taycan in my son's car J).
After getting home my boys and I went for a drive, I let my oldest (Boxster owner) take it out for a more spirited drive. He mentioned the normal things, handles well but you cannot hide the weight. We did have one incident on that trip where suspension system glitched and needed to turn off car walk away return and it came back. When it was out it rode like my Chevy Bolt EV as we were on some pretty uneven pavement on back roads allowing for more spirited driving.
Charging Summary:
Again 2 months of ownership and 3900 miles.
Total Fast Charges: 36 (All at Electrify America, mix of 350kW and 150kW stations)
Total Level 2 (AC) Charges: 3 (two at home and 1 at work)
Total 1450kWh (Charged less losses & HVAC while charging)
Porsche Connect & Car report 333Wh/mi (well 33.3kWh/100mi actually)
Figuring pack at 86kWh usable (pretty generally accepted) after mid-2020.
86/0.333 => 258mi. I also stand by that number. I can get 260mi at 65-75mph on a not too cold and flat-ish freeway without difficulty.
Porsche InnoDrive:
I use it often, probably too often but I want to learn what it can do so I know.
First thing I did was disable the Speed Sign Recognition for 2 reasons, see:
https://www.taycanforum.com/forum/t...-sign-recognition-in-innodrive-settings.2979/
I like to use Range Mode on the freeway when nothing aggressive is needed but then when I have a projected arrival at a charge with <10% it wants to adjust down my Max Speed, I now see I can disable that and have done so. My last 10 Fast Charging Experiences:
| | | | | | | | |
| --- | --- | --- | --- | --- | --- | --- | --- |
| Date​ | Location | Duration​ | kWh​ | Cost​ | Unit | Comments | Avg Rate​ |
| 12/19/20​ | Soledad, US | 0:33​ | 78​ | 0.75​ | 110059-04 | | 142​ |
| 12/21/20​ | Paso Robles, US | 0:40​ | 48​ | 2.25​ | 100023-03 | | 72​ |
| 12/25/20​ | Paso Robles, US | 0:22​ | 69​ | 0​ | 100023-03 | Start 6%/82F, Got 84% in 22min | 188​ |
| 12/26/20​ | Pismo Beach, US | 0:07​ | 10​ | 0​ | 100025-01 | | 86​ |
| 12/26/20​ | Camarillo, US | 0:31​ | 70​ | 0.25​ | 100034-09 | Start 14%/87F | 135​ |
| 12/26/20​ | Pismo Beach, US | 0:26​ | 51​ | 0​ | 100025-01 | Start 32% | 118​ |
| 12/29/20​ | Soledad, US | 0:37​ | 82​ | 1.75​ | 110059-02 | Start 2%/83F 4mi, left 91%/104F 220mi | 133​ |
| 1/1/21​ | San Jose, US | 0:31​ | 54​ | 0.25​ | 200193-02 | | 105​ |
| 1/6/21​ | San Jose, US | 0:30​ | 31​ | 0​ | 200191-02 | Start 42%/59F | 62​ |
| 1/8/21​ | San Jose, US | 0:30​ | 44​ | 0​ | 200193-02 | Start 41%/67F | 88​ |
The charging performance clearly makes it a road trip capable machine (with some planning). As demonstrated by Kyle Connor in
https://www.taycanforum.com/forum/t...lectric-cross-country-cannonball-record.3483/
Do shoot for <=10% SoC at arrival and head out at <85% if possible, to make next stop for optimal times. I find the Porsche range estimates to be very accurate with only a little conservatism, I use them without question adding very little buffer as long as I know some backup plans.
Problems:
I will not try to say my experience was completely error free. I have seen several random PCM issues, all cleared pretty quickly. The most concerning issue was a run of charging problems in early December where I had to retry starting a charging session several times to get it going. And that happed at 4 separate times over several days. I scheduled an appointment which ended up being just before Christmas. In the meantime before the appointment, I had several successful charging events so cancelled that appointment to postpone to a more convenient time. Will post after that appointment.
Closing:
I have no persistent issues with the car. My only issue is thinking of where to go with it. I feel it loves to be driven and I love making it happy.
I haven't yet done a launch control with my own Taycan. I do plan to soon with my boys. My wife is completely un-interested.
Photos:

Pismo Beach Photos:
https://www.taycanforum.com/forum/t...s-of-your-taycan-with-scenery.2117/post-43551
Morro Bay:
https://www.taycanforum.com/forum/t...s-of-your-taycan-with-scenery.2117/post-45725