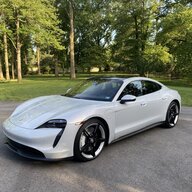 First Name

Rich
Joined

Jun 27, 2021
Messages
Reaction score

42
Location
Vehicles

2021 Taycan 4S, 2015 BMW228ix, 2021 Audi Q7

I have had my Taycan 4S for a month with absolutely no problems. Timed charging, with an occasional direct charge, worked great until this week. My setting was for the car to be charged at 6:15AM with a target charge of 85%. One morning I noticed that my car did not charge overnight. Since then, I have noticed that the car will charge for only a few minutes after plugging in, initially at 0.4 mi/min then gradually dropping down to 0.0 mi/min. This happens whether I am in timed charge or direct charge. I have tried changing or deleting my timer settings and changing or deleting my charging profile. I tried the ports on the passenger and driver's side. I even went to an Electrify America site but that didn't work at all.

The tech specialist from my dealer came to the house to check the settings on the car, my Connect app, and my charger and he could not figure it out. He is checking with the experts in the service department and Porsche for a possible solution.

The only time the charger seems to stay running for more than a few minutes is if the car is on! I accidentally discovered this when I switched the car on to see the battery display on the console control pattern. I browsed the Forum to see if anyone has had a similar problem but was unsuccessful. I even read the whole "Will my car charge tonight?" thread but I couldn't find and answer.

Any advice?