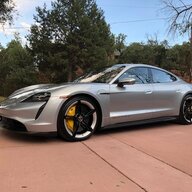 First Name

David
Joined

Sep 11, 2019
Messages
Reaction score

1,046
Location
Vehicles

Porsche Taycan Turbo S, Audi E-tron

I have over 7k miles on my Turbo S, but I recently started trying range mode on a couple of road trips. This weekend I drove 248 miles each way across central and western Colorado. All country roads (45-65mph speed limits) with lots of elevation. Several mountain passes including Monarch pass at 11,312ft. Temperature was in the high 80's to mid 90's so I was using the cooled seats and A/C the entire drive. I drove 5-10 mph over the speed limit when possible. I also had two passengers and about 200lbs of gear. Keep in mind this is a Turbo S with 21" wheels, and an EPA rated range of 192 miles.

Results:

Manitou Springs to Montrose Colorado
Distance: 248 miles
Efficiency: 29.9 kWh/100miles
Avg Speed: 47mph
Total Range based on efficiency: 280 miles
(assuming 83.6kWh of usable battery)

Montrose to Manitou Springs Colorado
Distance: 248 miles
Efficiency: 29.1 kWh/100miles
Avg Speed: 53mph
Total Range based on efficiency: 287 miles

Both times I stopped briefly in Salida Colorado and used a 125kW Chargepoint Faster Charger to add about 15%. I could have easily made both directions on a single charge, but we needed a break and this charger is in a convenient location at the half way point.

In the past using Sport/Sport Plus mode I have averaged closer to 36.0 kWh/100miles along the same route. Needless to say I have been really impressed with range mode. I have it set to the 85mph limit, but it still has more pickup than just about any car I've ever owned. I did switch to Sport/Sport Plus mode a couple of times when I was planning on passing someone and didn't want to hit the 85mph limiter. Otherwise range mode was great.

The Taycan continue to impress.