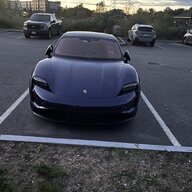 Joined

Nov 23, 2021
Threads
Messages
Reaction score

44
Location
Vehicles

Taycan 4S, Volvo XC60

Today I took my son to Thunder Mountain downhill mountain bike part in Western Massachusetts. I have taken my bike on the car locally but never on a longish distance. I know some folks on here like to understand the efficiency of trips so I tracked stats along the way.
We started from a Boston suburb and I took it fairly conservatively on the way to the mountain. Never too aggressive. While on the way home I drove it like a Porsche.
One thing to note, we could barely hear the noise of the bike with in the car. I do have insulated glass option. There is a speed where you do start to hear it but that was likely too fast anyway and good reminder to lift off the pedal a little.
Here are the stats
Reference: Last 5,500 miles

Average Speed: 30mph
Average consumption: 30 kWh/100 miles

Destination

Milage: 122.3
Drive time: 2:33 h
Charge: 100%-41%
Average speed: 50mph
Average consumption: 41.3 kWh/100 miles

Charger stop

Milage: +58
Drive time: 1:10h
Charge: 41%-9%-83%
Average speed: 52mph
Average consumption: 43.7 kWh/100 miles
Guess-o-meter expected charge at destination: 42%

Destination stop

Milage: +89
Drive time: 1:17
Charge: 83%-29%
Average speed: 70
Average consumption: 50.1 kWh/100 miles
Last edited: