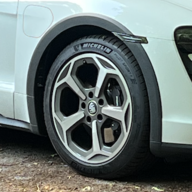 Joined

Oct 18, 2021
Threads
Messages
Reaction score

17
Location
Vehicles

CT4

Forgive me for sharing a few thoughts about my new CT4 - but some of these I didn't appreciate on ordering and may be of use if anyone is wavering...

Good

Even in base form it moves like the wind and will easily see off a (non competition) M4 and even an RS4 once on the move. The RS6 I met kept pace but couldn't match the instant pick up. And this is a base CT4, remember.

Handling is incredible and completely belies its size and weight.

Unlike others on here I find PCM 6 a joy to use and the haptic feedback is excellent.

Boot and rear passenger space is surprisingly good.

FOD - when working - is great. Now trying them all!

The bad

No anti-glare rear view mirror on an £86k car? Really?!

Not speccing better kick plates leaves you with a black plastic boot sill trim that scratches if you breathe on it, which somewhat undermines the whole off road / sturdy thing.

Many a cheap feeling plastic in the cockpit. My 530d touring felt like a Rolls Royce in comparison.

My car has a good few hundred miles on it and is still showing "awaiting delivery" on the app. Which is odd, as I have full connect control over it and, yes, it's right there on my drive.

The ugly

Damn that central storage compartment and its awkward opening procedure and limited space to hell.

I don't need two cup holders. Hell, in this car I don't need or even want one! I do need a place to store keys and wallet etc.