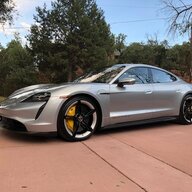 First Name

David
Joined

Sep 11, 2019
Messages
Reaction score

365
Location
Vehicles

Porsche Taycan Turbo S, Audi E-tron

Well I just got back from an epic 5-day, 1250 mile road rally through the mountains of Colorado in the Taycan with 7 Ferrari's and a 911 Turbo. It performed beautifully and essentially everything went to plan. I've come away even more impressed with the Taycan in terms of performance, luxury, drivability, and efficiency. One flaw did became more obvious in the mountains which I'll explain, and I did have a couple of problems creep up. Otherwise it was incredible and it pretty much won over all of the Ferrari drivers on the rally. This will be a long post with a lot of pictures so sit back and grab a drink.
My brother runs a youtube channel (Normal Guy Supercar) on the side that focuses on DYI maintenace and repairs on supercars, primarily Ferraris. He wanted to organize a 5-day road rally through Colorado with the most technical and epic roads possible. He lives in Texas and isn't very familiar with Colorado so he asked if I would put together the route. I've lived in Colorado since 2006 and my wife grew up on the western slope which has some of the most remote and technical roads in the state. So being very familiar with western CO I mapped out a fantastic route in remote locations, on back roads, with lots on mountain passes and canyons. Each day ranged from 200-300 miles and tons of elevation. Below are elevation profiles for days 2-4. We stayed in high end resorts or condos the entire trip, and were able to essentially rent the entire place each night so we could keep the group private to reduce exposure during the pandemic.
I put together this plan without considering car charging. I didn't have the Taycan yet, and at the time I was most likely going to order one which would have been delivered in early 2021, so I needed to quickly do some last minute planning in order to bring the Taycan. On a normal road trip typically you are on major highways with plenty of charging options. We were in mostly remote places without a lot of choices for charging. In addition, on a normal road trip you can take your time and drive easy if needed. On a road rally in order to keep up with the group this wasn't an option, so I needed to plan for quickly charging at every opportunity so I could stay with the group. Below is a summary of each day and how things went.
Day 1 started in Manitou Springs and we headed straight into the mountains on our way to Salida. The group stopped for gas in Salida (120 miles) and luckily they had a Chargepoint level 3 charger. I was able to charge at 84kW and added about 20% of charge while they filled up their cars. Next we headed over Monarch pass (11,312ft) to Gunnison for lunch. There was a free level 2 charger about 2 blocks from our lunch spot, so I was able to add another 8% during lunch. After lunch the group headed to Black Canyon National Park and I headed to my father-in-laws to spend a few hours with him. This was one of the two side trips that I skipped. I met up with the group in Montrose and we finished at Ridgway. We stayed at a really nice resort and there was a public charger about two block away in a park. I arrived with about 20% remaining as was able to charge to 100% by 6:00am the next morning. I wasn't to thrilled about leaving my car completely unattended in a public park, but everything was fine. Total distance was 284 miles.
Day 2 we headed out of Ridgway to Ouray and then onto the Million Dollar Highway. This is one of the most epic roads in Colorado. Hundreds of tight turns, tons of elevation, steep drop offs, and tunnels. Just about everything you could ask for. Right as we started up the first pass there was road construction and they had the road down to one lane. Luckily we were first in line at the stop, and after 15 minutes of waiting they let us through. We didn't catch up to any traffic for about 25 miles which made the road even more enjoyable. We then passed through Durango and on to Mesa Verde National Park. This is the second side trip I skipped. I was a little concerned about making the entire route and I only had one slow charge option. So while the group went through Mesa Verde I continue onto our lunch destination in Cortez and was able to level 2 charge for 2 hrs adding about 15%. After lunch we headed up lizard head pass and onto our final destination in Telluride. I arrived with 27% remaining after 206 miles of driving. In Telluride we stayed in a 10 bedroom condo and they had level 2 Tesla chargers in the garage. So again I was able to charge to 100% overnight using the Teslatap.
Day 3 we left Telluride and headed west. We followed a very remote section of road at the very western edge of Colorado that follows the Dolores river at the bottom of a red rock canyon. This was roughly an 80 mile stretch of road with endless turns, zero traffic, zero towns, and perfect visibility. It felt like you were rally racing. It was the most mentally taxing section of the entire trip just because we were able to drive pretty hard. We then made our way to Grand Junction were I was able to use my first Electrify America charger. I went from 25% - 90% in exactly 30 minutes. No issues. I met up with the group at our lunch destination and then we continued on. We headed up another really windy road onto Grand Mesa, pass Powderhorn ski resort, and down to the road that heads over McClure pass. We stayed the night at the Redstone Castle and had the entire place to ourselves. I did charge at a strange level 3 charger just outside of Redstone. It only charged at 20kW but used the CCS plug. I charged enough to bring the battery up to 35% because I didn't have an option for charging overnight, and I needed to make it 20 miles past our hotel in the morning to use a Level 3 charger in the morning. At Redstone I did plug into a 110V outlet and added about 8% overnight. 305 miles total.
Day 4 I left about an hour early and headed to Carbondale to use their level 3 charger. When I arrived the Chargepoint charger wouldn't work. I tried 5 times and gave up. Fortunately I found another level 3 charger about 15 miles up the road in Basalt. Thankfully this charger worked and I charged at 50kW from 20%-95%. It took about 1:20 but I was waiting for the group to arrive. We then headed through Aspen, over Independence pass (12,095ft), and onto Frisco for lunch. I used another Electrify America charger in Frisco and was able to go from 41% - 95% in roughly 30 minutes again. No issues again with EA. After lunch we headed on I-70 through the Eisenhower tunnel, then over Berthoud pass (11,306 ft) through Winter Park and Granby. Then we went through Rocky Mountain National park and drove the Trail Ridge road which is the highest continuous road in the US (12,183 ft) and finally stayed in Estes Park. I arrived with 46% and that was enough to make it to the next level 3 charger in the morning so I just plugged into a wall outlet for the night. 273 miles total.
Day 5 we headed out of Estes park on Peak to Peak highway through Nederland and then down coal creek canyon. The group headed to an aftermarket Ferrari Exhaust fabricator while I charged at my final level 3 Electrify America charger in Golden. I went from 25%-90% in exactly 30 minutes again. No issues. I met up with the group, and then we headed back to Manitou Springs where we started. 160 miles total.
After 1251 miles I averaged 0.371 kWh / mile. Now keep in mind this was fairly aggressive driving, lots of passing and accelerations, some pretty hard braking in sections, and not to mention some time spent in triple digits. Overall I was really impressed with the efficiency. Most of the chargers were free, including the Electrify America, so I ended up only spending $11.40 for charging. Almost comical compared to most of the Ferrari drivers who spent over $300 each.
Driving through the mountain passes with the Ferraris was really eye opening. At these altitudes they were most likely down 20-30% on horsepower. I could pull away from Ferrari 458's like they weren't moving. It was just remarkable. I could hang really well in the tight corners even though I was on all-season tires, but I could really feel the weight on downhill corners. Numerous people commented how flat the Taycan is cornering. I had one "oh shit" moment on a downhill section after passing a slow moving car. I was carrying too much speed into the corner and I could really feel the weight under hard braking and cornering. Obviously I was okay, but I definitely needed to tone back the full throttle on passes when there wasn't a clear straight ahead. The car just picks up too much speed too quickly. I really wished I had performance tires as the all-seasons were a weak link especially in the canyon on the western edge of Colorado. That was a hot day (80's) and with turn after turn those tires started to get loose quickly. I did have a couple of issues pop up. The cooling function on my drivers seat stopped working and I can't get my phone to connect to Apple Airplay anymore. It could be my phone. Also, my door handles are starting to squeak when they retract back into the folded position.
Everyone was jealous that I was driving a Porsche EV, that was faster, more comfortable with heated, cooled, and massaging seats, and that felt 20-30 years ahead of their relatively recent Ferraris. I gave everyone a ride over the course of the week and showed off with launch control. The entire experience was very eye opening for everyone there. Both from the performance standpoint but also that an EV could complete the rally with very few compromises.
It was a really incredible week, and we are already planning on doing the same trip next year. Good news is another level 3 charger is going up just outside of our first night's stay, and I found an alternative for charging overnight on day 3. So it hopefully will be even more smooth.
Day 2 Elevation
Day 3 Elevation
Day 4 Elevation
Start of the Rally in Manitou Springs
Pikes Peak in the background