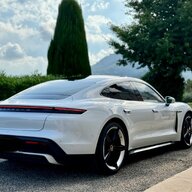 First Name

Peter
Joined

Nov 3, 2019
Messages
Reaction score

688
Location
Vehicles

Taycan T, Tesla M3P, Aston Martin DB9, Porsche 996 C4 Cab

Hi Elber. When I set up the mobile charging unit, it was set to the maximium charge rate.

There was a good thread on here entitled 'Home charging in the UK', and I attach a chart that was helpfully posted on that thread. I've got the middle AC set up and this suggests the best I can get is 3.6kW on a single phase supply, but if you change to an Anderson A2 unit, that will take you to 7kW.

No idea if that's correct or not, but I ordered the Anderson on the back of this and the fact it is Porsche approved.
Be aware that there are a few different models of the Porsche Mobile Charger Connect available. The one that you seem to have must be limited to 16 amp, which would get 3.6 kW. There is a 32 amp model available but maybe not in the U.K.? Check on the back of the charger and you should see the article number like 9Y0.971.675 and the three options
BE 7.2 kW with 2 phases
BG 11 kW with 3 phases
BJ 22 kW with 3 phases.
It is all in the spec for the "charger" in the manual.