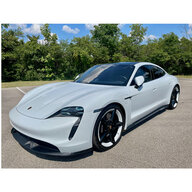 First Name

Vim
Joined

Oct 20, 2018
Threads
Messages
Reaction score

1,158
Location
Vehicles

GTB1 Race Cayman, Taycan Turbo S

OK, first of all, this is the best car I've ever driven - by a long shot. It redefines 'daily driver' for me and I just don't see anything even remotely close to this car in terms of the combination of performance, quality, driving experience, and exterior and interior styling. I love this car.

BUT, there are a number of things that Porsche needs to fix, either on my car if they can, or certainly on future generations. Most of these all fall under the category of minor annoyances, with a few graduating to '...why the hell didn't Porsche do this right to begin with...'.

First, I won't dwell on the backup camera, but I'm hopeful Porsche will introduce a fix soon. Second, and this is really quite irritating, is the randomness of proper functioning of a number of features. First, the 'comfort access' evidently needs to take some time off every week. Sometimes the car will recognize me immediately and the door handles will pop out. Sometimes I will need to touch the door handle, and sometimes it will not work at all and I have to use the key. Yes, I've replaced the keyfob battery.

Second is the completely random resetting of a number of functions, starting with the central map display on the console - I've reset it countless times. I set the map to 'north up' and 'satellite view'. Sometimes it will stay that way for a few weeks, and sometimes I will reset it several times in a week. The seat heating profile will never hold it's settings, and CarPlay is a crapshoot in terms of when it decides not to hook up. I'd really like the car to be consistent with it's software, but evidently this is too difficult for Porsche at this time.

The motion activation of the front and rear trunks is ridiculous. Anyone who successfully uses this regularly must possess some kind of alien energy field that we normal humans cannot duplicate.

I won't get into the Nav and how well the charging planner works because I really don't use or trust it. I use Waze and the Electrify America app and have worked out how I combine this with the car nav, and it's probably not optimal but it works for me. A simpler and more reliable system is surely on the horizon.

That's about it for me, and my opinions are based on 12K miles over 12 months of daily driving with 2 long trips of over 500 miles. I wouldn't trade this car for anything and plan on keeping it for another 4 years and hope to put some 100K miles on it. I'd be very interested to hear what others think.