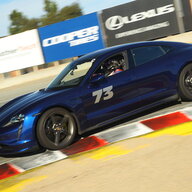 First Name

David
Joined

Jan 28, 2019
Threads
Messages
Reaction score

6,939
Location
Vehicles

Taycan, Cayenne Hybrid, 911(s) GT3/Convertable

was chatting with someone who should know - they noted the following

there will be a service notice for the PMCC (maybe PMC+ didn't get details) where Porsche will is now recommending "lowering the amperage" for "normal" usage of the PMCC - i.e. effectively it's not a 40 amp EVSE and using it as such will be is against Porsche's recommendations

also they will they have updated the the documentation to reflect a recommendation that it only be used with Porsche vehicles - it's not expected to be compatible with other EV's (i.e. Tesla's)

the birdie I was talking to says this campaign will be out by the end of the calendar year…campaign is now out…

we'll see if it happens, but it seems if true that Porsche is admitting they have no idea what they are doing with EV chargers…

no word as to if this is North America only or world wide…I'm going to guess North America only cause the PMCC/PMC+ seems to be better in europe

if true - this would cements my long standing opinion that the PMCC is a crappy EVSE and there are better non-Porsche alternatives.

but it appears they are "punting" on the PMCC being a good EVSE - good thing it's still the most expensive EVSE money can buy…but far from the best.

call me a liar if this doesn't happen by the end of the year, but I was told this by someone who should know and we'll see if it comes to pass - I would not be I am not surprised by these recommendation it's well understood the PMCC has issues, but I would be it is disappointing.

also the PWCC (Porsche Wall Charger) sales are "on hold" while Porsche "works out some issues" with it…

basically stay away from Porsche for your EVSE hardware - they have no idea what they are doing and they seem to no longer care about addressing any issues - or they are abandoning this existing product line and will be moving to a "whole new" thing in the future…

my bet is on "whole new" because this item is shared across the VW/Audi/Porsche line - and rather than throw good engineering money after bad product design - they are probably working on new EVSE for the ID.4/eTron and other higher volume products - I would be unsurprised if we see a whole new EVSE included with the EV Macan and future VW/Audi EV's - rather than the highly flawed and problematic PMCC - essentially the PMCC will be made a "legacy" product and that explains why they are not and will not pursue any improvements - they have alternative plans cause it's pretty clear the existing stuff wouldn't scale to high volume EV sales…given all the problems it has and it's apparent cost.

until further notice this is a RUMOR and may be incorrect, but we'll see and I thought I'd share what I learned.

updated to reflect facts that have come to pass since this original posting - the official campaign is out now and this proved to be a pretty accurate summary of what has happened.
Last edited: