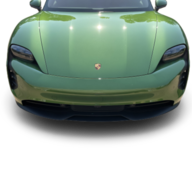 First Name

Jeremy
Joined

Feb 9, 2021
Threads
Messages
Reaction score

3,084
Location
Vehicles

2016 Macan S, 2021 Taycan 4S

Some meandering thoughts from my first weekend with the car.
Charging
I optioned the 19.2kW charger. There's been a fair amount of conversation on the option in the forum, and mostly negative due to interfering with Plug & Charge as well as people seeming to generally not understand the option when they ordered.
But I'm happy with it. It fits my use case of running around with kids and needing to charge quick during stops at home. I also live in MO (that's one of those middle states you fly over on the way to somewhere interesting
?) and there isn't great public charging in this area, so losing P&C is a small price for better home charging for me.
I have an 18kW charger and pull a solid 17kW at the car. ????
I also have a 14-30 receptacle as a backup. I sized it this way because I can use both simultaneously on my 125A sub panel if I ever get a 2nd EV. My PMC+ has a 14-30 supply cable for this purpose. I also keep the PMC+ with all of the supply cables in the cubby under the Taycan trunk floor for travel (just in case).
Insulated Glass
The car is my wife's DD so, I mostly left the options to her discretion. Insulated glass was a top one for her. She likes the car as quite as possible.
It's definitely quite, but I couldn't quantify the difference the option makes.
I was surprised to see a visual difference in the glass. You can see the multiple panes.
We had issues with our garage door opener not being read unless we were right up against the door, but we mapped the diamond button on the right hand side of the dash to homelink and that works fine from a reasonable distance. So, no issues here.
However, my wife was having issues getting her phone navigation to work inside the car. The GPS couldn't locate us. I'm not sure if that is glass related or not.
I had heard of potential issues with rolling the windows down with the thicker glass if you add tint, but I have not seen any issues with this.
Speaking of tint...
Back Window
I went with a 5% tint on the rear windows. This is what I have on my Macan and it's fine.
But on the Taycan, the rear window is so small, the 5% tint is too dark. The rear door windows are fine, but the back window is really hard to see out of now in low light. I wish I had gone lighter.
Good thing there's a back up camera. Speaking of which...
Cameras
What is up with these cameras? I feel like I'm on drugs trying to look at these things. ?
We optioned the surround view because I've had it in the other cars and I can't hardly imagine parking without them.
But, geez, the 360 view feels subpar...and the front and rear cameras just make me physically ill. ?
I do like the wheel travel lines. I've had surround views with and without and this is always a welcome addition.
I also like the side view for seeing the wheels. Fist time I've had this type of view.
Overall, I'd rather have them than not, but
not
the best implementation.
Standard Interior
We have the standard interior in limestone beige and it looks great. I would have gone with black , but...not my car.
I know a lot of people are all about the full leather, but we had standard interior in our other P-cars, so we're used to this. I can see how if your used to full leather, this would feel like a downgrade though.
If anyone is on the fence, I think your perception of standard vs full leather will largely depend on your past experience.
We would have only gone with full leather for a specific color. We really liked the red, but we weren't going to do red with our exterior color choice.
Speaking of which...
Mamba Green Metallic
I saw this color on a Macan when we took our Taycan test drive. I really liked it and it's one of the few things I pushed hard to get her to pick (the others being the performance battery and the larger charger).
We were told we're the first green Taycan delivered to STL, so hopefully we won't be seeing any others on the road anytime soon.
It's an interesting color. It can look dark in low light and really bright, almost yellowish, in bright light.
But then I drove it around....and...and...OMG the car is the exact same color as grass. Grass and leaves. ??? WTF? If I parked it in a field, I'm sure it would just disappear and I'd never find it. ??
I'm not sure what I think about the color at the moment. I like it but I wish nature would find something else to do.
20" Sport Aero Wheels
I didn't get to see these in person before our car showed up.
I knew there was a metal plate behind the spokes, but the wheels are overall much flatter in person than I expected. I expected the spokes to be out further from the plate than they are.
I would probably still go with them again, but I wish there were more normal wheel options that aren't just about trying to optimize range.
Metal Roof
My wife is deathly afraid of the sun, so metal roof it was. Which is fine with me; the car kind of feels like a cave, but I actually like it that way. I don't think I would have liked the glass roof with no way to close it off.
Massage Seats
We ordered the massage seats, sight unseen (unfelt?).
My wife is moderately happy with them. I'm indifferent. I don't like massages, so I leave them off.
She said it's not the best, but when they turn off, she notices and misses them. She immediately turns them back on.
Her reaction reminded me of using heated jackets in really cold weather. They aren't perfect, but you notice when they turn off...?
And speaking of cold...
Air Conditioning
This is our first EV, so air conditioning without an engine running was an unexpected perk.
It was 90 deg in our garage ?, but we sat comfortably ? in the car while we setup accounts, profiles, and of course, the most important setting of all, ambient light color. ????
Ingress/Egress
I paid special attention to this due to the other thread about getting out and the B-pillar. I really don't have any issues.
Rear Seats
The rear seats are really comfortable, just a little short on head room. I'm 6 foot and there is just barely not enough room for me. I think 5'10" and under would be fine in the back.
Volume Knob
I can't find it. Surely it's in here somewhere...
Audi's volume knob is in a dumb place...but at least it exists.
Super annoying when I'm a passenger and can only use the buttons.
Door Handles
I don't feel like I have the hang of these yet. They're out when I want them in and in when I want them out.
Maybe someone wired them backwards.
Or maybe I'm not smart enough to use doors.
¯\_(ツ)_/¯
Sport Chrono (lack of)
"Where's the clock?" ?
That was the first thing my wife asked when she saw the dash.
"You didn't want to pay for it when we ordered and you didn't want to review the options anymore even though I asked you to look them over several times before the freeze date. That's where the clock is."
She doesn't care about sport plus or the drive modes. She just wants a clock. Oh well...
Acceleration
Below around 60 mph or so, if I slam the accelerator, my wife bangs her head on the seat. It's pretty funny.
I'm not exactly sure where the line is, but I've been informed that once was understandable and 12 times is excessive.
Our couch is pretty comfortable though.
?
Overrun Recuperation
So, the overrun to me feels a little like engine braking and when off it feels a little like coasting in neutral.
This may seem dumb and I'm probably in a minority, but I'd love a third pedal that disabled overrun regen when pressed. Maybe even variable by pedal travel.
I know it'll never happen; but I can dream.
Final Thoughts
Some minor annoyances, but overall a great car. I'd absolutely buy it again. It drives fantastic and looks awesome. Two thumbs up!
??
Last edited: